Latest Phone Accessories at Mobile Tech
17 April 2019 | Admin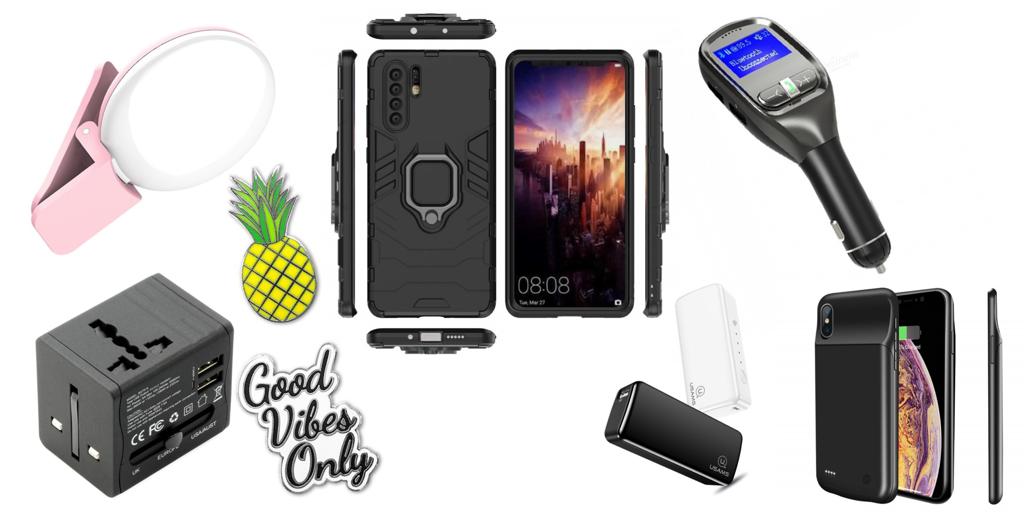 Latest Phone Accessories at Mobile Tech
1. Panther case for Huawei P30 and P30 Pro
The panther cases come with a muscular look and can outlive your phone due to its protective body. All thanks to its thoughtful designers who have managed to detail the urban lifestyle. Whether you hit the tracks or do the usual stuff, the panther case comes handy at all the time. Built for heavy duty the case features a shockproof bumper design. An added feature is the ring holder at the back. Ring holder allows a stand view for watching videos and also offers a comfortable grip. The modern design comes with a robust dual layer which protects the phone if dropped. So why worry when you have a panther backing your phone? Panther case comes in red, blue and black colours. Do you wish to own the Panther case?
2. Huawei P30 Pro and P30 3D Nano Self Repair Screen Protector
The name says it all 'Nano Self Repair Screen Protector' is as good as it sounds. High quality glass offers 99.9 per cent high definition clarity real touch sensitivity and resists finger prints, scratches and dust. Simple instructions make it easier to install and no residue upon removal. Highly effective screen protector built for the marathon.
3. iDecoz accessories
Discover the full range of iDecoz accessories to make your phone appear extra appealing. The phone charms, sticker tags, ring holders, swipe wipes and phone pockets are a perfect complement to your phone at all time. Use the swipe wipes to clean your screen from finger prints, dust and dirt. Stick the sticker tags and charms to make your phone look attractive. Use the ring holders as a stand and hold your phone comfortably while talking.
4. iPhone XS Max Battery Charger Case by USAMS
There comes a battery case for iPhone XS Max. What can be better than a case combined with a battery? Now you have a portable charger fitted into a case that you can carry with ease. The charger case designed by USAMS features a convenient efficient charging and protection. High quality case supports audio and data transmission and comes with inbuilt creative design iron chip.
5. Vodafone Smart X9 Cases
Wow! Guess what do we have in store for the Vodafone users? The classic wallet case made of premium synthetic PU leather gives your phone a unique character. If you are looking for something that's easy to pocket then go for the silicone. Do not forget to compliment your screen with the high definition tempered glass that keeps your screen away from dust, scratches and bumps.
6. G11 Wireless In-Car Bluetooth FM transmitter and Dual Charger
Why shouldn't you own a Bluetooth fm transmitter when you own a car? The G11 Bluetooth In-Car FM Transmitter is the 'Jack of All' as you can receive and make phone calls, connect to your favourite music station and go hands free. The advanced audio distribution profile seamlessly integrates with the Bluetooth sound process to give you the ultimate experience.
7. World Travel Adapter
Carry the world travel adapter wherever you go as you can use it just anywhere. The 4 in 1 adapter is made especially to suit your travel itinerary and can be used in the States, Australia and Europe. So what's stopping you from owning one? Its unique features make it compelling to own one right away such as dual USB ports, fireproof polycarbonate material and high durability.
8. LED Selfie Colourful Fill-Light
The 360° colourful lights are great to have if you are a selfie maverick. With only 28 grams of weight to add on to your phone doesn't feel like burden at all. The gadget is also a favourite party accessory that brings out the best of group clicks. When are you going for the next party? Its 300 mAh battery capacity and illuminating light makes for the best companion on special occasions.
9. 2000 mAh Mini Power Bank by USAMS
Mini portable power bank easily slips into the pocket and out again in just ONE second. And yes that's faster than the time taken by a formula one car in the pit stop. What makes this gadget a must is that you are either planning a holiday abroad this summer or going abroad for business? So order now and get a 1-2 day delivery just anywhere in Ireland.
Wrapping up! Thank you for your time.
Mobile Tech – Ireland's No 1 mobile phone accessory retailer.